Eran mucho más que la banda que durante unas giras acompañó a Bob Dylan. Entre mediados de los sesenta y 1976, The Band formaron una de las discografías más esenciales del rock. Todo estaba allí, en su música, eran músicos tan versátiles, tan cultos, que toda la música amaericana explotaba en nuevas formas en cada una de sus obras.
Son una de mis bandas más queridas, desde que hace un montón de años mi hermano se compró un greatest hits que me abrió los oidos de golpe a cosas como The weight o The night they drove old dixie down, su canción más emocionante. Luego vino el VHS con The last waltz, su concierto de despedida firmado por Scorsese, y más tarde sus directos con Dylan, el Before the Flood y algún pirata, y más tarde aún, empecé a bucear en su discografía.
Y en mi opinión, todos sus discos son perfectos. Music for Big Pink, The Band, Moondog Matinee, el emocionante Northern Lights - Southern Cross... La riqueza musical es tal, que no encuentro nada comparable. Eran superdotados. Bebían, follaban, vivían a fondo el rock n´ roll, pero sobretodo eran dignos herederos de la música de su país en todas sus vertientes.
Y verlos en directo debía ser atronador, porque entonces, eran country, blues, bluegrass, todo, sublimado en una ceremonia de inagotable rock n´roll. La guitarra de Robbie Robertson, el genio del grupo, abrasaba todos los compases, Richard Manuel pintaba melancólicas canciones con su voz rasgada a cuchillo y alcohol (murió ahorcado años después de la disolución del grupo), Rick Danko (falleció no hace muchos años), otra voz protentosa y personal, expandía la imagen de la banda con su simpatía, Garh Hudson era el científico loco, el barbudo psicótico que arrancaba sonidos supra espaciales de su órgano, y a la batería, otra voz, la de The night they drove old dixie down, Daniel and the secret harp y tantas otras, otro superdotado, Levon Helm.
Nunca es tarde para aprender, para mi nunca lo fue con ellos. Empezando, por ejemplo, con su opera prima, Music for Big Pink, es posible descubrirles, amarles y no abandonarles jamás.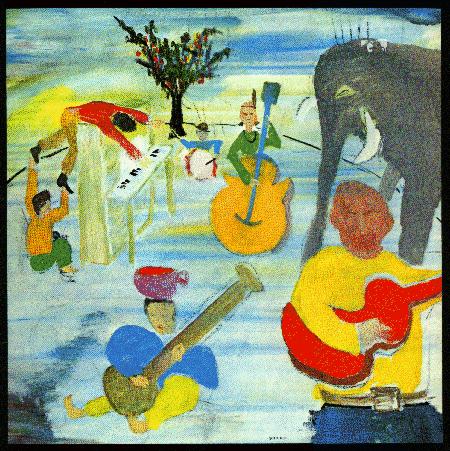 ("Music for Big Pink" -1968- El mismo Dylan les pitó la portada. Todo queda en casa)